We are often asked: How can I help?
Our Pigs in Action Program is an easy way for everyone to get involved and help. This program not only generates cash that directly benefits families in need, PIGS involve children who want to help; it is a "kids helping kids" program, and it offers FCCF kids a way to help others like them who are fighting.
How it works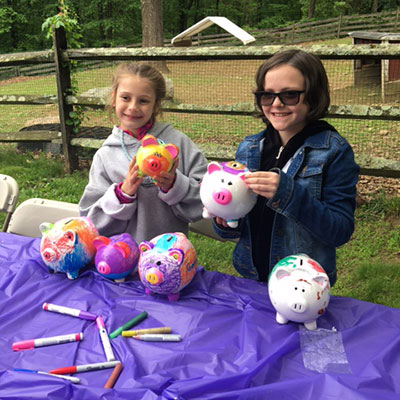 Volunteers like you sponsor a ceramic piggy bank that has been hand-painted by a child with cancer, his/her friends and family. Arrange for a venue to host the ceramic piggy bank in their lobby, office setting, restaurant, school, town hall or any other suitable location to raise awareness and collect funds.
Children love the program. Kids can see the path to action and love to help.
Kids become empowered
Kids become leaders
Kids take action
Sponsor a Pig
The PIGS in Action Program is a very visual and easy to participate in fundraiser that raises awareness and gives all ages a chance to participate in helping families and Kids with Cancer.
Do you or someone you know have an office that can host a PIG? Maybe a store, school, or corporation? Most anywhere is suitable for our PIGS. Every ceramic PIG that is hosted helps raise funds, creates awareness and provides opportunity for children to paint a new PIG with a creative design.