Hear From Those You Have Helped
From the Dad of a 12-year-old Warrior Fighting Acute Myeloid Leukemia: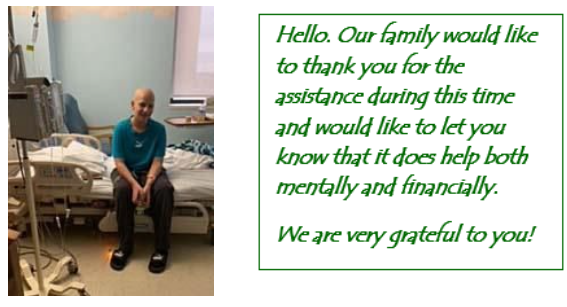 A Message from One of our Young Adult Warriors: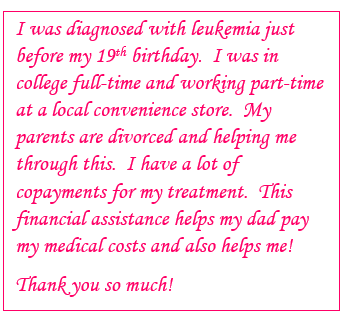 A Message of Gratitude from FCCF Warrior Alex's Mom:
My name is Oralia and I want to say thank you on behalf of me and my family – my sons. We have had a very difficult year, when my son was diagnosed with leukemia it was very hard. And, although we continued onward, to see my son in a hospital all the time, coming and going receiving chemotherapy and to have to leave my other children at home alone has been very difficult for me as a mom and also difficult for my children.
But, throughout this whole process we have learned a lot. We have learned to have faith, to have hope, to be more united in love for each other, and above all else to value life and not question what God gives us. I am a woman of faith, and as such I have not asked God, even to this day, why my son? I only have accepted what He has given me as a teaching, or as a test of some kind.
And, He has put in our lives angels in the form of people like all of you who, without even knowing us, have helped us to survive what we are living through. With an infinite gratitude from the deepest bottom of my heart, thank you to each and every one of you, and may God bless you always.

An 8-year-old warrior whose smile lights up a room...
Dear Fighting Children's Cancer Foundation,
I just want to say how much your kindness means to us.
Fighting childhood cancer has been the most difficult time in our lives. Our son David has shown us what strength really is. To have your eight year old smile at you when he is feeling so sick is heart breaking, it takes my breath away.
Your foundation has helped us is so many ways I can not put into words. Thank you so much for all you do, and please know that you give so many families the ability to not worry so much about rent and many more financial pressures.
Much love to you all.
Big Hugs, David's family
From the heart of a mom on behalf of her family...
Dear FCCF,
Certainly no parent is ever prepared to hear "your child has cancer" much less endure the utter shock and deep sadness that comes with such devastating news. You want to pull your child close and would do anything to absorb his pain and ease the suffering. You're immediately swept up in an avalanche of worry, uncertainty, and despair. Due to our family having recently relocated to the Northeast, without a strong network of family and friends, the overwhelming feeling of helplessness is even more intensified. The day Liam was diagnosed with neuroblastoma, his doctors assured us our family would not fight this battle alone....We're committed to seeing our son to a full recovery and want to place all of our energy and focus on Liam's treatment as one or both of his parents will always be at his side until we win this battle.
The generous support of FCCF is deeply appreciated and will assist us in taking time away from our jobs and will assist with medical bills, additional child care and a multitude of other related expenses few families are prepared to handle. Words simply cannot express how blessed we feel and in awe of the many people in our community offering their support in our battle against this very real monster we all know as childhood cancer.
Thank you and God bless,
Liam's family